Once upon a time, the Gunny was out hunting and came upon a squirrel that was so feeble, it could barely attempt to get away. Why? Because it had so many ticks on it that they were bleeding it dry. The Gunny put it out of its misery and tossed it into a fire he made, in order to kill the ticks, and send the squirrel to the Land of Fruits and Nuts in the sky (not to be confused with the Land of the Fruits and Nuts on the Left Coast).
Well liberals operate in much the same manner as those ticks. They literally suck the lifeblood out of our economy, our lives, and overall, our nation.
Case-in-point.
In Alaska, we basically are living on a sea of natural gas and oil. Gazillions of barrels/BTUs of it, the only problem being, that much of it is on illegally seized federal land. So we have to fight the federal tyrants in DC, 5,000 miles away, to order to "GET PERMISSION" to drill, pump, refine, etc. That is one set of ticks.
Another set of ticks are the local variety, dirtbag socialists like Hollis French (who tried to pass himself off as a Marine Gunnery Sergeant only to get busted out and is now called "gunny" in derision) and another asshat by the name of Les Gara, who have passed enough taxes on the oil industry to float a fleet of battleships. Here is a report from Les Gara, so filled with bullshit and socialism as to make a real American projectile vomit. (
http://alaskareport.com/news39/x71152_gara_stimulus.htm)
)
In effect, these two liberal socialists have raised taxes on the oil industry to the tune of 48-55%, which is in addition to what they have to pay the federal imperial government! They had help from pseudo-Conservative Sarah Palin, who slapped a windfall tax on the oil industry as well.
"The oil industry has long fought windfall-profits taxes. Officials cite a congressional study that indicated a windfall-profits tax imposed by President Carter — and later repealed in the 1980s — appeared to discourage U.S. oil-field development. "It was a bad idea in the 1980s, and it is an even worse idea today," says an American Petroleum Institute statement on windfall taxes."
My friends, it is a proven fact that when you tax something enough, it grinds to a halt and dies, much like the squirrel mentioned above. In fact, figures so that Conoco-Phillips, for one, operates on a profit margin of 6 cents gained on every dollar spent. For you ticks (liberals) out there, that is for every one dollar SPENT, Conoco-Phillips gets 1.06 back. Small wonder they won't drill anymore, it is not worth it, thanks to the parasites, er, liberals, but the Gunny digresses.
So to date, there have been three, remember that number, three oil wells drilled here in Alaska in 2010. Why so low you ask? Excellent question. The liberal ticks here in Alaska have slapped them with taxes, the enviro-nazis, another set of liberal ticks, slaps them with anti-drilling lawsuits, and the biggest and most engorged tick of all, the federal colossus, hits them with a fat 35% corporate tax. And wonder of wonder, they leave for better and more business friendly environments. Evidently, liberals are too stupid to figure this out.
On the North Slope, jobs are becoming as scarce as people with an above room temperature IQ at a Democrat convention, and more and more Alaskans are out of work when they shouldn't be. Thanks libs. And so, where are they going?
Why, to North Dakota, where the state corporate tax is 5%, the enviro-nazis are used to lubricate the drill head by being sacrificed to the Oil God and tossed into the well (the Gunny is only kidding but that COULD be a good use for these anti-capitalist, anti-business, anti-American, anti-energy, anti everything but for the sake of Gaia asshats) and they have drilled a massive 650 wells in ONE YEAR there! IN ONE FRIGGING YEAR! North Slope workers in Alaska are heading Outside, probably in the spring, for greener pastures.
The National Petroleum Reserve in Alaska measures approximately 250 miles by 200 miles. Now using some math (hang on libs, the Gunny knows this hurts your tiny brains) length times the width, we come up with approximately 50,000 SQUARE MILES set aside for drilling, that the federal ticks, the local liberal ticks, and the enviro-nazis ticks prevent us from drilling in. That is 23 MILLION acres that could be drilled, could be providing jobs, could be providing revenue, and that could be getting us OFF of the foreign oil = money for terrorism gig, but sadly, no, liberals are too ignorant to understand it.
So HATS OFF to liberal ticks like Obama, Salazar, Hollis "Gunny" French, Les Gara (Les = MORE taxes and LES jobs), who continue to drain the blood from our economy, like a few too many parasites, as they cripple their host. The fact is, is that liberalism is parasitic in nature, feeding off of prosperity, as they seize the funds to buy the votes of the lazy and stupid, killing the host in the process.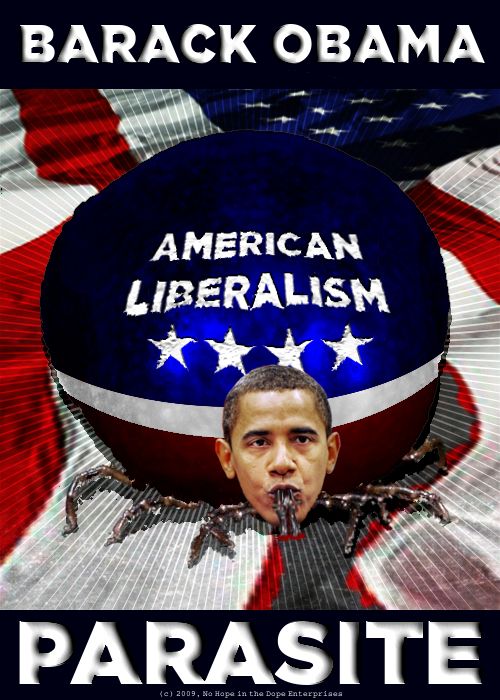 Liberals and parasites, who can tell the difference?
UPDATE: MORE US JOBS LOST THANKS TO PARASITIC LIBERALS.