no , it's SIR GOLFSALOT!
EXCERPT: "This is the president's 60th time golfing as president, meaning Obama has spent two months of his presidency on the golf course. The rounds usually take about five hours, including motorcading back an forth to the course. According to statistics compiled by CBS News White House correspondent Mark Knoller, who keeps close tabs on the president's activities, Obama played 30 rounds in 2010, 28 rounds in 2009, and two this year, including today. George W. Bush gave up golfing in 2003, explaining why he did it in a 2008 interview with POLITICO.
I don't want some mom whose son may have recently died to see the commander in chief playing golf," he said. "I feel I owe it to the families to be in solidarity as best as I can with them. And I think playing golf during a war just sends the wrong signal."
So evidently, all of America's woes are solved, the world is at peace, the economy is chugging along, Iraq and Afghanistan are at peace, Soros is in jail, we're NOT 4 TRILLION PLUS dollars in debt, Eric Holder and the ATF leadership is in prison for selling guns to Mexican cartels! Hurray for Sir Golfsalot. The Gunny wonders how much gas it takes to get Sir Golfsalot from the White House to the links at Andrews AFB for a taxpayer funded golf game. It could be worse, Sir Golfsalot could have jumped on AF One, as he is wont to do, to take a vacation in Hawaii along with the First Grifter and the First Grubs.
It is amazing that the Lapdog Media attacked Bush 43 every single time he went back to HIS RANCH in Crawford to WORK and took people from his administration to WORK while he and they were there. So far, the Lapdog Media has not said BOO! about Sir Golfsalot and his 60 golf trips, all on OUR DIME.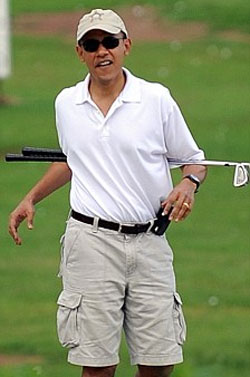 SIR GOLFSALOT...
AS USELESS AS TITS ON A BULL
http://www.whitehousedossier.com/2011/03/05/golf-2/comment-page-2/#comments